If you're running a business that heavily relies on commercial vehicles, chances are you've faced situations where your vehicle broke down unexpectedly. In such scenarios, commercial towing services can be a lifesaver.
These professionals offer a range of services tailored specifically to meet the needs of businesses like yours. From large equipment and heavy-duty towing to emergency assistance, they've got you covered.
But it's not just about towing away broken-down vehicles; these experts also provide speedy salvage and recovery services that minimize downtime and keep your operations flowing smoothly. Additionally, they offer efficient roadside assistance, ensuring your commercial vehicles get back to work promptly.
Plus, with specialized equipment for different types of trucks at their disposal, they can handle any situation effortlessly.
So let's delve deeper into why having a reliable commercial towing service is paramount for your business operations.
Towing Companies Provide Large Equipment Towing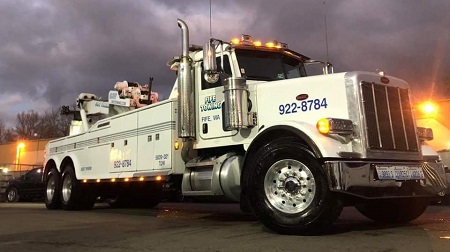 You'd be surprised, but towing companies aren't just about rescuing stranded cars; they're also the unsung heroes when it comes to hauling large equipment for businesses!
These commercial tow trucks are equipped with specialized tools and machinery that can handle loads up to several tons.
Whether it's a construction company needing an excavator moved from one site to another or a manufacturing firm relocating heavy machinery, commercial towing services provide solutions that regular transportation methods just can't.
They deliver not only efficiency but also safety in moving these massive pieces of equipment.
Research shows that using such professional services reduces damages and mishaps by over 60%.
So you see, investing in a reputable commercial towing service isn't just smart—it's essential for your business operations.
Towing Professionals Offer Heavy Duty Towing
When your large vehicles break down, it's the heavy-duty vehicle towing capabilities of professional operators that'll get you back on track. You see, not all breakdowns are created equal. Some involve small autos where a regular tow truck will suffice, but for larger equipment like semi-trucks and buses, heavy-duty towing is essential.
These specialized services employ trucks with a higher capacity to handle the substantial weight and size of your hefty machinery. They're designed to withstand immense stress without compromising safety or efficiency. Data indicates that in 2020 alone, over 60% of commercial towing was attributed to these heavy-duty tasks.
So don't underestimate the importance of professional towing services for businesses; they offer robust solutions that keep your operations running smoothly while ensuring the safety of everyone involved.
Help in Emergency Towing Services
It's in the wee hours of the morning, with a busted engine on a deserted road, that you'll truly appreciate emergency towing services. As a business owner, these services are invaluable, ensuring your fleet is never stranded and always serving your customers.
The benefits are manifold:
Round-the-clock assistance: Emergency towing services operate 24/7. Your vehicle trouble might be inconvenient, but their response time isn't.
Professional handling: Trained technicians handle your vehicles with care to prevent any additional damage.
Cost-effective: Compared to potential losses due to delays or damaged goods, the cost of professional towing is minimal.
Remember that downtime translates to lost revenue for your business. Having reliable emergency towing services at hand ensures continuity of operations and customer satisfaction.
You Will Get Fast Responders for Salvage and Recovery
In the midst of a roadside crisis, you'll find fast responders for salvage and recovery to be absolute lifesavers. Commercial towing services are quick off the mark when your fleet vehicles encounter breakdowns or accidents. They ensure minimal downtime by swiftly taking action, thereby reducing the loss of productivity.
These professionals have in-depth knowledge about different types of vehicles and their technical intricacies, which helps them perform efficient recovery operations. According to data from AAA, over 32 million drivers experience breakdowns annually. This highlights the importance of having a reliable commercial towing service on speed dial.
Moreover, most reputed companies offer round-the-clock assistance, ensuring that no matter when an emergency strikes, help is just a call away. So, investing in such services can save your business both time and money while maintaining operational efficiency.
Get Efficient Roadside Assistance So Your Commercial Vehicles Can Get Back to Work
Imagine the relief you'd feel knowing your fleet won't be left stranded, thanks to efficient roadside assistance that gets your vehicles back on track in no time.
Commercial towing services are indispensable for businesses as they offer swift and professional solutions to unexpected mechanical hiccups.
A reliable towing service can drastically reduce this figure, ensuring that your operations run smoothly.
From tire changes to jump-starting dead batteries or even delivering emergency fuel, their comprehensive range of services will keep you covered.
So, save yourself from worry and costly delays – secure a dependable commercial towing service today.
Get Specialized Equipment for Your Commercial Trucks
When it comes to running a successful commercial trucking business, having the right specialized equipment is crucial. Whether you need heavy-duty winches, specialized towing attachments, or custom-built flatbeds, partnering with a tow truck company can provide you with access to a wide range of specialized equipment. These companies have the expertise and experience to help you find the perfect equipment that meets your unique needs and specifications. By working with a reputable tow truck company, you can ensure that your commercial trucks are equipped with the right tools to handle any towing or recovery situation, ultimately improving efficiency and safety for your drivers and clients.
Fife Service & Towing Provides Commercial Towing and Heavy Duty Towing Services
Getting stranded on the side of the road is absolutely out of the question for your business. At Fife Service & Towing, we completely understand the urgency of receiving immediate help when your business truck, van, semi, or fleet vehicle breaks down. Rest assured, we are always ready to respond swiftly, ensuring that you can get right back to work without any unnecessary delays.
Don't hesitate to call us now and experience the expertise of our certified towing professionals, available 24/7 for all your commercial towing needs in Lakewood and the surrounding South Sound area.
Emergency roadside assistance services we provide:
24-hour roadside assistance
Flat Tire Changes
Flatbed Towing
Gas Delivery
Crane Service
Shuttle, Bus, Semi Truck, Trailer, & RV Recovery and Towing
Visit our About Us page for more information about our towing company.