Dependable Towing in Puyallup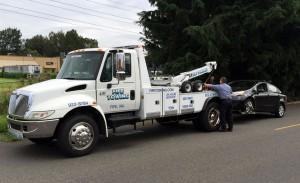 If you are waiting for towing or roadside assistance, you shouldn't need to wait long. Fife Service & Towing offers careful, fast, professional towing in Puyallup and the surrounding areas. With more than 65 years in the business, our family-owned, multi-generation towing company is well established as the go-to name in towing in Puyallup. We offer 24-hour towing, 7-days a week.
Specializing in residential towing as well as light, medium, and heavy duty commercial vehicles, we are offer full-service towing. We have a fleet of towing vehicles ready for any situation. From big-rigs stuck under an overhang that couldn't be cleared to cars centered on cement blocks, we have the solution and the equipment. We always treat every vehicle carefully and ensure that no further damage is done in the towing process.
Towing Puyallup Trusts
At Fife Service & Towing we are proud to have earned years of positive referrals and reviews from our customers. Our goal is to get to people fast and treat them like a family member. We also treat each vehicle like it was our own. Without the right equipment and professional experience to use it well, towing can do more harm than good. That is why all our professionals are thoroughly trained and certified in residential and commercial towing.
In addition to regular towing services, we also offer roadside assistance. There are many situations that leave a person stranded, but do not require towing. These include things like a flat tire, needing a jump, getting locked out, running out of gas, needing a push start, and much more. We can help with these and many other roadside situations. Whenever possible, we get you back on the road. When it is not possible, we offer affordable towing with excellent customer care.
Contact us today when you need towing in Puyallup. Why wait, when our help is just a phone call away?
---
Related Topics
Tractor Towing
Roadside Assistance
Commercial Towing

---