Reliable Towing in Federal Way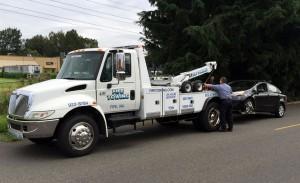 A good towing service gets to you quickly and is prepared to get your vehicle out of any situation. At Fife Service & Towing, we aim to exceed expectations in all of the above, and more. When you call us for towing in Federal Way or many of the surrounding cities, we treat you like a family member who needs fast assistance.
We understand how stressful it can be to be waiting on the side of the road or highway! That's why we have a large fleet of towing vehicles and a 24/7 dispatcher who expertly ushers them to the next person in need. We know what questions to ask to ensure the right type of towing vehicle, with all the necessary equipment, arrives at your location.
Towing Federal Way Trusts
As a locally-owned, family business we have been serving Federal Way and the surrounding areas for more than 65 years. In that time we have earned a reputation for impeccable towing services and reliable customer care. We keep our prices affordable while offering high-quality towing by certified professionals.
If you don't necessarily need towing, we can help you with roadside assistance issues as well. These include things like a flat tire, being in need of a jump start, running out of gas, and other similar concerns. Whenever possible, we get you up and running and back on the road. When towing is the only solution, we have the equipment and expertise to safely get your vehicle out of any situation. This includes towing services for heavy-duty rigs and other types of commercial towing.
Don't let the stress pile-on while you sit and wait for a towing company to arrive. Call us right away and we won't keep you waiting. We get you and your vehicle to safety—fast!
Contact us for immediate towing in Federal Way and surrounding cities.
---
Related Topics:

---