Reliable Towing in Lakewood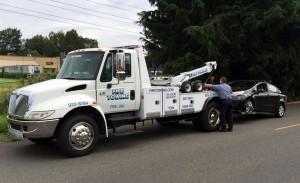 Towing is rarely something you plan for. When you need assistance, you need it right now! At Fife Service & Towing we have two main goals: 1. Get to you quickly, and 2. Treat you like a friend or family member. We have been achieving these goals for over 65 years. That is why we earned a reputation for premiere towing in Lakewood. We offer 24-hour towing dispatch, 7-days a week.
As a locally-owned business that has been family run for multiple generations, we have strong roots in the community. We care about each customer and want to get to them fast. Our well-prepared towing vehicles and equipment are ready to handle any towing situation. From wenches to flatbed trucks we can handle any size commercial towing.
No matter what tight spot you may be in, we have the expertise to help. Day or night, we can get to you anywhere in Lakewood and the surrounding cities.
Towing Lakewood Trusts
When you are broken down on the road it is not only stressful, it can be dangerous. Having to deal with a long wait or unprepared towing service makes it that much worse. We employ only well-trained, certified towing professionals. Our friendly dispatchers know what questions to ask to ensure the right type of vehicle with the right equipment gets to you quickly.
When all you need is roadside assistance in Lakewood, we can help you there too. We offer services such as gas delivery, getting a jump start, assistance with a flat tire, and getting locked out. If we can get your car up and running again, we are happy to do so. However, when towing is necessary, we are proud to serve the Lakewood area with excellent service!
Contact us today for fast, affordable towing in Lakewood and the surrounding areas.
---
Related Topics:
Semi-Truck Towing
Roadside Assistance/a>
Heavy Duty Towing

---