Every motorist knows that car troubles are part of everyday life. From a flat tire to an engine breakdown, these things tend to happen when you least expect them and in the worst possible locations. It is such situations that would prompt a car owner to call for roadside assistance help. But before we even go there, do you know what emergency roadside assistance is and what it covers? Let us answer that in the following blog post.
What is roadside assistance for cars?
This is a service that comes to the aid of helpless motorists that encounter car trouble while driving on the road. There are two different levels involved: emergency and non-emergency help. The former refers to immediate car breakdowns such as flat tires and empty gas tanks, whereas non-emergency cover refers to lockouts, jumpstarts, or tire changes.
What does car roadside assistance involve?
As the name suggests, it covers whatever types of roadside problems that require quick action. These include flat tires, oil leaks, and even running out of gas (if you forgot to refuel). Roadside assistance services offer different levels of cover depending on the type of membership you have. This will include towing services and labor costs up to a certain amount (usually $50) and discounts at designated service centers like tire shops or car dealerships.
Do I need roadside assistance?
Roadside assistance services can be invaluable to a stranded motorist. But if you are a low-key driver, it might not be worth the investment. However, if you drive to remote areas or plan to drive long distances where getting stranded can mean an overnight stay in your car before help arrives, then this may come in handy. It is vital that before you call a roadside assistance provider, you must first understand how it works and what does it cover. Not all services charge the same amount, so make sure to clarify this with your provider beforehand. Some may not charge anything at all if it's covered in your membership plan.
What are the benefits of having roadside assistance car insurance?
This is a cover that comes with most car membership plans. It saves you from the hassle of calling for additional help or, even worse, getting your hands dirty! It gives you peace of mind and protects your vehicle since many memberships have reimbursement clauses for any accidents that occur when rendering services to members. With this cover, auto insurance companies help motorists in times of need by providing immediate aid for their vehicle's problems while on the road. If your car lets you down late at night or far away from home, this service gives you the peace of mind that help will arrive as quickly as possible.
How to get roadside assistance coverage if you're not currently covered?
There are many service providers in the market today. If you don't have a membership with any of them, it is best to research and compare their rates before signing up for one. If you have a good driving record, an auto insurance company can offer discounts to save money in the long run. However, the best time to get this coverage is while shopping for a vehicle. You can ask the dealer if they offer a plan with your vehicle purchase. This way, you will never have to worry about car trouble for as long as you own that particular model. All in all, the full benefits of signing up for the cover will depend on factors such as:
• Age of the vehicle
• Driving patterns
• Location of vehicle usage
• Liability for damage to the car
• Cost of the cover
• Convenience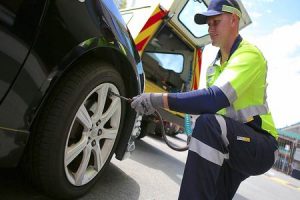 How much does it cost for roadside assistance programs?
This usually depends on the membership plan you have with your provider. However, it is essential to note that different types of memberships come with varying benefits and rates. The best way to get an estimate is to compare the rates of the car insurance company and choose one that best suits your needs.
What happens if I don't pay for roadside assistance coverage?
Failure to comply with your membership or policy terms and conditions may result in suspension or cancellation of services, as well as legal charges from your provider. If you are not covered, you must call for an ambulance or depend on the kindness of strangers to get help. The problem here is that you could be compromising your safety by getting help from anyone, especially if you are not familiar with the area.
How to find an emergency service provider close to you
Roadside assistance providers are typically local to where you live. You can search for an emergency service provider using your postal code or by looking up the closest car dealership that offers emergency services near you. Alternatively, you can call a friend or a family member who is close by for assistance. Sometimes, your nearest repair shop might have all the information about locally-based service providers.
How do I know which emergency road service plan is right for me?
It all depends on your needs and the features included in each membership package from providers near you. You should consider these factors first before deciding:
– The distance of the service center to where you live
– Does your car require a flatbed, or can it be towed to the nearest service center? These affect how much you pay for the services.
– What type of trip interruption coverage do you need, and what does it include (e.g., free roadside assistance, tire change, fuel delivery, etc.)
Need a Tow Truck? Call Us Today!
At Fife Service and Towing, we provide all levels of roadside motor assistance to motorists stuck on the road. Whether you need a flat tire change, fuel delivery, or emergency lockout service, we've got you covered. Call us today to request assistance and get more information on Emergency roadside service in Federal Way!