Towing companies are an essential service that can get you out of a sticky situation on the road. But to have the best tow experience, you need a qualified service provider to handle your car professionally. It starts when you take out your phone to dial the number of your chosen towing service. This post offers essential pointers on choosing the right towing company.
Check their reputation in the market
One of the first qualities to look for in a tow company is reliability. You can always check this in the company's reputation. Are they well known in your area? Do people you know use their services, and are they satisfied with that service? If the company has a website, look at what its customers say about them. The same goes for other social media accounts. Ideally, look for a reliable towing company with more positive reviews than negative ones. 
Tip: When reading online reviews, use critical thinking especially when it's for towing businesses.
Check their experience level
Experience matters a lot when it comes to tow trucks. A company that has been in the business for a while knows how to handle different types of emergencies on the road. They also have the necessary tools and equipment to get the job done. You do not want to compromise on this, especially if your car is stuck in an unknown area, or if your vehicle might require specialized equipment.

Ask about the services offered
Different towing companies offer additional towing services. Some might only tow your car a certain distance locally, while others will take it across state lines. Some companies also include aid for other emergencies in their services – like a dead battery, empty gas tank, or keys locked in your car. With this information in mind, you can ask the company what their service package includes.
Check insurance and licensing
Before you sign any contract with a towing company, you should check their insurance and licensing status. A licensed company assures you that they are authorized to offer tow truck services in your area. Furthermore, insurance protects you and your car if any damages occur during the towing process. As such, you need to make sure that the towing company is insured and licensed before agreeing to their terms.
Get an estimate
It is always a good idea to get an estimate from the tow truck company before they start towing your car. This prepares you to have an adequate budget for the service. Some companies also have a towing fee and storage fee that you need to be aware of. If possible, get multiple quotes from different tow truck companies and compare their charges. This helps you choose someone that offers the best value for your money.
Ask for recommendations
If you are having trouble choosing a tow company on your own, you can turn to your friends and family for recommendations. You can also ask your mechanic to recommend the best towing service provider in the area. This way, you are sure that they have tried their services before and know what to expect from them. Alternatively, you can ask your insurance company to give you referrals to roadside assistance providers.
Check their area of operation
Before choosing a tow company, check their area of operation. Some tow truck services only operate in certain states or regions. It would be unfortunate if you called your service provider in the middle of an emergency only to realize that they don't service your area. If you are unsure whether the company operates in your area, don't hesitate to ask them directly. This will save you from any inconveniences later on.
Ask about their payment terms
Another thing to consider before choosing a tow truck company is their payment terms. Do they require a deposit? What is the minimum amount you have to pay? Are there any hidden charges? What mode of payment do they accept? You must be clear about these things before hiring anyone. This way, you won't be surprised when the bill comes at the end of the towing service.
What services does a towing company provide?
There are many services that a towing company can provide. The most common of these include:
Roadside assistance
This is when a towing company is called to help fix a car that has stopped working on the side of the road. They include services like:
– Lockout service
– Battery jumpstarts
– Fuel delivery (if your tank is empty)
– Tire change and repair (if you get a flat tire)
Towing
This is when a vehicle towed is pulled by a tow truck in most cases using either a chain or a cable. The vehicle can be pulled carried on the back of a towing truck.
Heavy-duty tows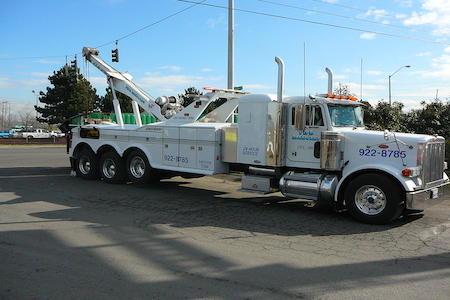 These are used for heavy transportation and bigger vehicles like trucks and buses that cannot fit standard tow trucks. They include towing vehicles like flatbeds, boom lifts, forklifts, and cranes.
What is a good price for towing?
The towing price depends on the towing service provider, type, and size of your vehicle. Many factors affect how much you will pay for a tow truck service. These include:
– Extra fees
– Mileage fee
– The time of day
– The type of tow service you need
Generally, the closer your vehicle is to where it needs to be, the less you'll have to pay for a tow. Quite a few variables affect your price, so don't be afraid to ask.

We Are Your Trusted Tow Providers!
At Fife Towing & Service, we offer both local and commercial towing services. Our 24-hour emergency operation ensures that you can call us at any time of the day, even on weekends and public holidays. We also offer a wide range of roadside assistance services, including jump starts, fuel delivery, tire change, and repair. If you are looking for affordable towing in Tacoma, don't hesitate to call us today!