Professional tractor towing is a necessary service that is required for the safe and efficient transport of tractors and other heavy equipment. However, improper towing can lead to accidents, injuries, and liabilities. As such, taking certain precautions to avoid injury and liability when using professional tractor towing services is essential.
Choose a Reputable and Licensed Towing Company
Choosing a reputable and licensed towing company is crucial for ensuring your tractor's safe and efficient transportation. When selecting a towing company, it is important to ensure that they have a valid license and insurance. A licensed company will likely have the necessary experience and knowledge to handle your specific towing needs. Additionally, insurance coverage protects you from liability in accidents or damages during the towing process.
By working with a reputable and licensed towing company, you can rest assured that your tractor will be transported safely and securely, minimizing the risk of accidents, injuries, or damages. A reputable company will also have the necessary equipment and trained personnel to handle the job safely. This includes specialized equipment, such as heavy-duty tow trucks and high-quality straps or chains, as well as personnel trained in the safe handling of tractors and other heavy equipment.
Ensure the Tractor is Properly Secured
Ensuring that the tractor is properly secured before towing is critical for both the driver's safety and the equipment's integrity. Using straps or chains rated for the weight of the tractor is essential to prevent the equipment from shifting during transport. These straps or chains must be securely fastened to the tractor and the towing vehicle to prevent movement while on the road.
In addition to using the appropriate straps or chains, it is also important to properly distribute the weight of the tractor on the towing vehicle. The weight should be evenly distributed to avoid putting too much strain on any one part of the towing vehicle. This can be achieved by using a towing vehicle with a proper weight capacity and placing the tractor in the correct position on the tow truck or trailer.
Inspect the Tractor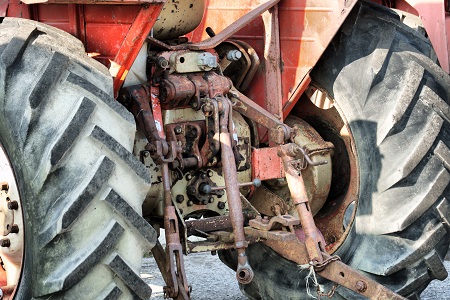 Inspecting the tractor before towing is an important step to ensure that it is in good working condition and can be safely transported. Before beginning the towing process, it is important to check the brakes, steering, and tires of the tractor to ensure they are in good condition and functioning properly. Be sure to check inside the tractor to see if you left any valuables before transportation.
Communicate with the Towing Company
Clear communication with the towing company is essential for ensuring that your tractor is safely and efficiently towed. Before hiring a towing company, it is important to provide them with information about the tractor, such as its weight, dimensions, and any special requirements for towing. This information will help the towing company select the appropriate equipment and personnel to handle the job. This also includes keeping the towing company informed of any changes or issues that may arise during the towing process, such as unexpected delays or changes in the route.
In addition to communicating about the tractor and any special requirements, discussing any concerns or questions you may have with the towing company is important. This can include asking about their experience with towing tractors or their safety record and discussing the expected timeline and costs for the towing service.
Maintain Proper Insurance Coverage
Maintaining proper insurance coverage is essential to protecting yourself and your tractor during the towing process. Before hiring a towing company, it is important to review your insurance policy to ensure that you have coverage for any potential accidents or damage that may occur during the towing process. Also, ask if your insurance company covers tows.
In addition to reviewing your insurance policy, you should discuss insurance coverage with the towing company. Ensure that they have liability insurance to cover any damages that may occur during the towing process. It is important to ask for proof of insurance and verify that the towing company has the necessary coverage to protect you and your tractor in the event of an accident.
Fife Service and Towing Tows Tractors
At Fife Service & Towing, we understand that your time is valuable. Our team of certified professionals has the expertise and experience to quickly and safely help you with all of your heavy-duty towing needs, including load shifts, breakdowns, incapacitated agriculture vehicles, container transport, and more. With problem-solving capabilities like no other, trust our capable technicians to get the job done efficiently so you can get back on the road as soon as possible! We come prepared on every call for tractor towing in Federal Way with two assurance goals – rescuing your vehicle as well as whatever you're carrying.
Fife Towing has 24hr towing dispatch for quick response times with the closest technician. Our extensive fleet covers the local area to guarantee you help is always nearby. If your vehicle needs assistance, we offer a range of fuels and services to get you back on the road – from crane operations to secure storage for your goods. Doing all the hard work for you, our tractor towing solution has all your problems solved. Call us today and experience fast, reliable service when you need it most.
Tractor towing and roadside assistance services we provide:
Crane services
Bus, RV, and shuttle towing and recovery
Semi truck and tractor trailer towing and recovery
Load shift repair
Container transport
Locked out services
Jump-starts or pull-starts
Trailer Lifts
Tire Changing
Winching
Fuel delivery
Secure storage facility
And More
Other towing services we provide:
Emergency Towing Services
Heavy-Duty Towing Services
Commercial Towing Services
Flatbed Towing Services
Recovery Towing Services
Visit our About Us for more information about our company.