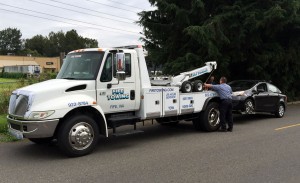 Towing
Having a breakdown is stressful enough. You don't want to pile on long waits and unprofessional towers to your level of stress. Fife Service & Towing offers safe, certified professional towing in Tacoma and surrounding areas. All of our professional towers treat your vehicle like it was our own. We also respond to each call with care and respect for our customers. We treat you like a best friend who just called needing towing assistance.
Fast, Reliable Towing Service
When you call us, we get to you quickly because we have a good-sized fleet of towing vehicles available and a 24/7 dispatch. We cover a large range of service area. We can get to you just about anywhere in the Greater Tacoma area, including an extensive range of surrounding cities in the area.
We offer both residential towing services as well as commercial towing. No matter the reason your vehicle has stopped, we can help. If you are locked out or out of gas, our towing service includes unlocking vehicles and gas delivery. We also do pull starts to get you back on the road.
Our Towing Services Include:
Truck Fuel Delivery
Pull Starts
Trailer Lifts
Piggybacking
Load Relocation
Container
Transporting Trailers
Flatbeds & Wheel Lift Trucks
Multiple Passenger Capacity
Fuel Delivery
Unlocks
Tire Changing
Winch-Outs
Secured Storage Facility
and more!
Prepared Towing in Tacoma by Certified Professionals
As a multi-generational towing company, we have expertise in just about any towing situation. We own the equipment necessary to get your vehicle off the road, out of a ditch, out of the mud, or just about any other imaginable circumstances. Our dispatch knows what questions to ask to ensure the right type of towing vehicle with the right equipment comes to your rescue quickly.
As a family-owned and operated towing and recovery company, we are the name in towing Tacoma trusts. As the areas preferred towing company, we swiftly serve surrounding cities such as Des Moines, Federal Way, Lakewood, Seattle, and others. Since 1949, no other Tacoma towing company is as trustworthy as we are—our stellar references and reviews stand in testament of this!
No one wants to be stranded alongside a road for long, this is why so many people choose us; the vast area we cover means rescue is soon on the way.
Contact us today at (253) 292-6170 or toll free at (800) 244-9528 for towing in Tacoma you can rely on.
Ask about our discounts for senior citizens and military personnel!

Contact Us Today!
*Not for immediate/emergency service response. Please allow up to 48 hours for a representative to contact you.
About Fife Service & Towing
Fife Towing is a fourth generation "family-owned", towing business with a reputation for excellence in the private and commercial sectors.
We have been providing quality towing services in Washington, Oregon, Idaho and British Columbia since 1949.
We have four locations around the Puget Sound area which are ready to assist by offering the most advanced expertise in towing, recovery, transporting services.
Since 1949, we have remained a locally owned business in the Tacoma, Washington area. For 60 of those years, we have supplied the transportation industry with trained towing and recovery specialists, advanced equipment and diverse services to suit their needs.
We're proud of having one of the most versatile and sophisticated fleets in the Pacific Northwest and look forward to helping you.
What Our Customers Are Saying...
I broke down on I-5 on a Friday at 6:30pm during rush hour traffic. I called 2 tow companies who each gave me a 2 hour wait before they could arrive. Fife Towing was the third I called & they said they could come immediately & with a truck big enough for myself & my 2 passengers. Brian was super professional & courteous even providing a quick check under the hood when we got it home. Can't thank you guys enough for the prompt service at the worst time & place. I will surely recommend you. Thanks again

The experience speaks for itself. The team from Fife Towing was professional, fast, and courteous.

I needed my car moved from my in-laws house to my new house after returning from deployment, they did it the same day. Quick, great service, would recommend to anyone in the area. Thanks again for the help!

These guys helped my son and I out of a terrible situation. We had our car stolen and the police had it removed. We were a little afraid of the condition of the car, but when we got to the office. Everyone was very professional and courteous. They even helped us get the car started after we found out it wouldn't start. Very good and old fashioned service!

Fife Towing arrived with the right equipment, the right knowledge, and the right staff to get our trucks back on the road.

The Fife Towing team helped me get my children home safely - I cannot express my gratitude!

The team at Fife Towing is fast and reliable. They saved me and my family - all the way in Spokane.

These guys are fast, efficient, and professional. Highly recommend doing business with them.